Welcome to Beta Kappa Chi

Founded in 1923 by the science faculty and science students of Lincoln University, Lincoln University, Pennsylvania, Beta Kappa Chi National Honor Society is a collegiate honor society dedicated to the promotion of high scholarship in pure and applied sciences.

A member of the Association of College Honor Societies since 1961, Beta Kappa Chi now comprises 67 chapters at colleges and universities across the United States, with over 66,000 members.
The society publishes the Beta Kappa Chi Bulletin and a Booklet of Information; sponsors, stimulates, and encourages a variety of program activities through local chapters; conducts an annual national convention to transact society business and for the presentation of reports on research conducted by undergraduate and graduate members.
Read more about:
or contact us if you are a student interested in becoming a member of Beta Kappa Chi, or a faculty member of a college wishing to form a chapter.
2022 Joint Annual Meeting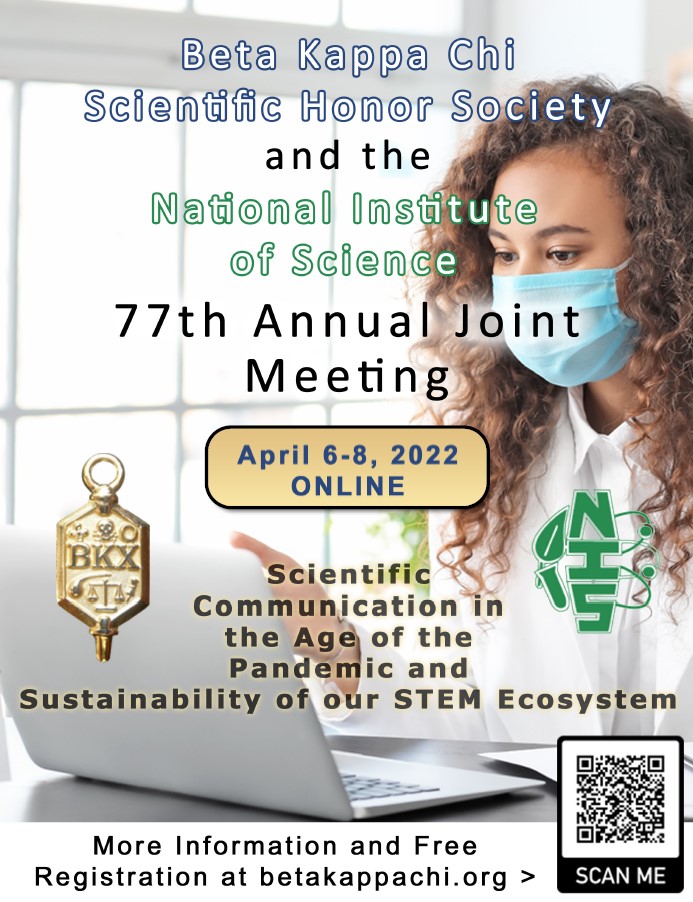 Click to download flyer
Beta Kappa Chi and the National Institute of Science Joint Annual Meeting will be hosted online on April 6-8, 2022.
Therme: Scientific Communication in the Age of the Pandemic and Sustainability of our STEM Ecosystem
Program
Online Meeting Link
Anymeets online meeting tutorials
How to participate - Video: https://youtu.be/sQ_-l4VXVyY

The following instructions are for Presenters only.

How to be a presenter - Video: https://youtu.be/XUgWGGXYJyo

PDF guide: Guide for speakers and presenters

Additional instructions for POSTER Presenters only:

Please follow the instructions in the registration email for the "Beta Kappa Chi Conference". If you do not see this email, please check your spam folder.
It is recommended that you do not use Safari. Please use Google Chrome or Mozilla Firefox.
Please do not connect via VPN.

You will have to sign in to Anymeets using the email address at which you have received the instruction email. Then you should use the "Forgot Password" to set your password. Once you sign in, please follow this link to the Conference.
Use the following link to access your poster session:

Find your poster and click "Enter poster room"

You will enter a videochat room similar to Zoom. Your presentation controls are on the bottom of the screen (mute/unmute, start/stop video, share screen, chat, raise hand etc).

On the right there is a panel with five tabs. The first tab is entitled "Chair Control." You do not need to use this tab in any way, and will receive a notice that you cannot use these controls if you click on them. The other tabs: provide information about your poster, the audience members, are a Q&A and a Chat.

Although conference attendees will be able to download your poster in order to view it in detail on their own computer, make sure you are able to share your screen. If you are unable to share your screen (on Mac), please follow these instructions. If you cannot share your screen on Windows, please contact  

[email protected]

.
Registration
Registration is open. There is no fee for the online conference, but you must be registered to be able to attend. Register here: https://betakappachi.org/event-registration
Presentation Abstracts
The deadline to submit or edit a presentation is past

All presenters must register for the conference first before they submit their abstract.
Contacts
Deadra James Mackie
National Executive Secretary
Southern University and A&M College
P.O. Box 10046
Baton Rouge, LA 70813
ph. 225-771.4854
fx. 225-771-4848
Email: [email protected]

Margaret I. Kanipes-Spinks, Ph.D., Treasurer
Director, Honors Program
Professor of Chemistry
North Carolina A&T State University
Honors Program - ACB 110
1601 East Market Street
Greensboro, NC 27411
Ph: 336-285-2030
Fax: 336-256-2468
[email protected]

Note: Offline payments should be sent to the Treasurer; checks made payable to "Beta Kappa Chi Honor Society".
Judges
Prospective judges should contact
Dr. Shervia Taylor
[email protected]

Download Judges Agreement Form (MS Word)
Position Statement on Racial Inequality
In 1923, Beta Kappa Chi Scientific Honor Society (BKX) was established as the first African American STEM Honor Society in the nation. It is my distinct honor and privilege to serve as president of this esteemed organization. Our purpose is to ensure the stimulation of high scholarship in pure and applied sciences and enhance the motivation of intellectual growth and nurturing of quality leadership in the pursuit of scientific advancement. Education and the pursuit of excellence through scholarship is our one of our most valuable weapons in the fight against racial inequality. One can only imagine the barriers of systemic racism that our predecessors had to endure, while being a Black scientist in America. All of Beta Kappa Chi's founding chapters were Historically Black Colleges and Universities, since African Americans were not allowed to join majority honor societies. Today, 97 years later, America is in monumental moment where systemic racism continues to threaten yet another generation of black scientists. Our future scholars should have the opportunity to live in a nation that lacks discriminatory practices. In May of 2020, light was shed on America's "evil" within the criminal justice system. A law enforcement officer assassinated George Floyd, a black man, with his knee on his neck, while three others knelt on his back. A young woman like, Breonna Taylor, should not be murdered while asleep at home and certainly, Ahmoud Arberry, should have been able to jog in his neighborhood without being executed. There was no crime, except they were black. We must stand in solidarity to work together and demand systemic change for racial inequalities and injustices that plague our local, state and federal government. Beta Kappa Chi stands strong and unified for change and encourage a peaceful movement against racism. Beta Kappa Chi Scientific Honor Society's unparalleled mission for education, scholarship and scientific excellence will endure with zeal as we mandate positive police reform and racial equality for all.
Maureen Scott, President
Beta Kappa Chi Scientific Honor Society